Helping Parents Help their Young People
This week I'm going to look particularly at how parents can support young people during the current social isolation period. We might be used to our kids spending most of their time in their rooms, accessing their phones, staring into space, but without school to go to, we can feel guilty and irresponsible if they are doing it all the time.
Above everything else, helping young people keep their mental health in a good place is vital. Within days of lockdown starting we were aware of the impact it was having and would continue to have on the mental health of everyone, but particularly young people. The charity Childline saw an almost immediate surge in calls which has not abated, with young people showing high levels of anxiety and stress. In most counties the Children and Adolescent Mental Health Services (CAMHS) have closed their doors meaning that even those with support were losing it. As parents this can be extremely worrying, and the pressure can feel immense. Here are a few thoughts about how we can help our own young people navigate lockdown.
Self-schooling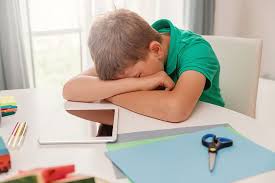 There seems to have been quite a bit of coverage about "Home Schooling" with lots of stories and resources for parents helping with phonics, long division and understanding the Romans. That's all great but if, like me, you've got a teenager currently studying GCSE Physics, Biology and Chemistry, its not going to be quite so useful to break out the Lego and get on our hands and knees.
For adolescents it is much more likely that they are "Self-Schooling," responding to work being set online by their teachers. This can be extremely stressful and increase the feeling of isolation. Its important for parents to be aware of this and help with coping strategies:
It's probably unreasonable to expect young people to spend six or seven hours a day in self-school
It's OK for them to use Social Media to stay connected with school friends, especially to ask for help
Taking time out is really important. Encourage a long lunch break (taken as a whole family if possible) where school work is off the agenda
Exercise is vital – going for a walk, kicking a football around the garden, bouncing on the trampoline – exercise is one of the key factors in good mental health
Being Task Focused – rather than expecting them to maintain school hours, breaking the day into tasks rather than time is really helpful, eg. Breakfast, English Essay, Lunch, Maths Revision, Walk, Youtube, Dinner, Family Game, Read, Bed
Language
My colleague at The Door has put together a great video which helps us think differently about the kind of language we might be using at the moment:
How we pitch our language seriously changes how we think about our situation.
Space to talk
Like all of us, social isolation is strange and tough for young people. Creating space to talk about things is helpful, but recognising that talking to a parent might be a particularly difficult thing to do so not putting pressure on them is good. Often doing something together creates the space to talk – helping with cooking, cleaning or gardening, learning a new skill, playing games together, going for a walk – using the time we've got to connect with our children will reap benefits long after the lockdown has ended.
But its also important to recognise the need to talk to others – friends over FaceTime, grandparents and other family members. For some, the need for more professional support is also there, most schools are monitoring mental health and well-being and have pastoral support in place.
Staying connected to God
Church ministers, youth workers, and others from our church connections are also really important friendly faces who can provide connection and support. Encourage your kids to connect with whatever is happening in your church, but also give them the freedom to explore what's going on in other churches both locally and nationally. There are some great things happening across the country which will keep your kid's spiritual life ticking over as well. The important thing to remember is their relationship with God and not with any particular church!
Lamentation
As a parent its easy to think we have to have all the answers, and in situations like this that can be nigh-on impossible. Learning to lament our circumstances together and without the need for answers is helpful. Giving young people the permission to ask questions, feel despair, and still keep positive is hard, so experiment together with reflective practices, prayer spaces and discussions where no-one is the "expert". Ultimately let's remind ourselves and our children that we have a God who is bigger than even COVID-19, and that He is on the throne and reigning supreme – whilst we might not understand we can trust Him.