Spirituality in Art in Archway
The academic year finished in real style as the illuminateStroud team  and guest Artist Steph Cormack, took over year 7's RS lessons in Archway School.
Focusing on the question
"How can people express  their spirituality  through art?"
Students were encouraged to reflect on their first year in Archway from a  spiritual and wellbeing perspective, building on their learning from earlier in the year which look at the character of Jesus and looking at  depictions of Jesus' life in art.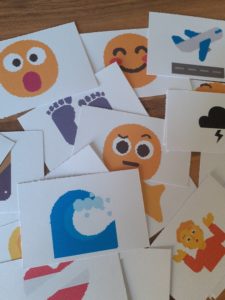 During individual RS lessons, Barrie and the team worked with each class to explore the concept of spirituality and how we can express this using images, including using common Emojis to describe our own sense of the spiritual.
Each young person was challenged to use one image to capture themselves, and during a dedicated  'creative day' over 100 students took part in producing an amazing art installation made up of all the individual pieces. Students from other year groups also got involved in creating the structural elements of the piece.
This artwork will stay in place throughout the academic year before being refreshed by next year's year 7 students.
illuminateStroud will also continue to work with the RS department visiting lessons and helping students get to grips with our learning from a Christian Perspective.